Sundays at 10:30am
in the church parking lot.


Willow Glen Bible Church is happy to announce that we will have a small worship service on Sunday mornings at 10:30am in the church parking lot.
Please arrive at 10:00am for check-in.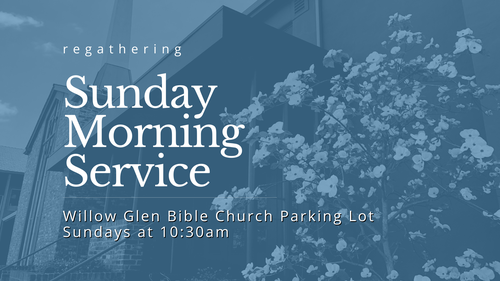 We are limited to a total of 200 persons at this outdoor worship service.
There will be sign-ups for each service.
Spaces will be designated for your family groups to keep with distancing protocols from the county.
All guests must wear a mask at all times
Chairs provided/bring a blanket for kids.
Click the button to read the latest Santa Clara County guidelines.
Our Sunday Morning Schedule is changing. The Livestream Service will continue to be our primary service. It will begin at 9am, followed by options at 10:30am. We are excited to offer these new worship opportunities.
9:00 AM     ADULT CLASSES
10:30 am   Sunday Morning Service In the Parking lot
10:30 am   Livestream Of OUtDOOR SERVICE