Adult Elective Classes are held Sunday mornings at 10:30am
Currently classes are held virtually via Zoom.
A Brief Look at the Attributes of God
led by Chris Tenny

Scripture not only seeks to tell about what God has done to redeem us, but it also wants us to know what God is like. What kind of God is he, that he would accomplish such a great salvation? This is a three week exploration of how scripture teaches about what God is like so that we may grow in loving him for who he is.
Class Schedule
10:30am on Zoom
Sept. 20 - Knowing God, how do we talk about God?
Sept. 27 - Attributes of God Part 1: Characteristics that make God utterly unique
Oct. 4 - Attributes of God Part 2: Characteristics of God that he shares with his us
Listening: life stories from the Willow Glen Bible Family
led by Mark Bucko & friends via Zoom


This class will be a time to simply hear from our very own WGBC people. They will be stories of origin, culture, racism, struggle, oppression, and most of all the life giving reality of Jesus in the lives of God's people here at Willow Glen Bible Church.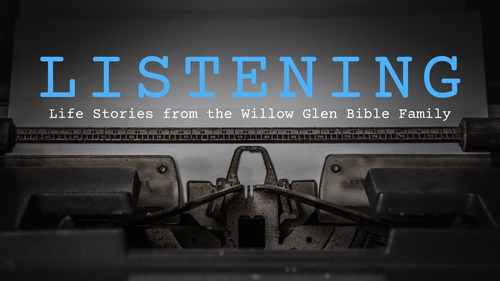 If you would like to attend this class, sign up for the weekly newsletter to receive the Zoom link. (See footer below)